2020 Spring Board of Directors Meeting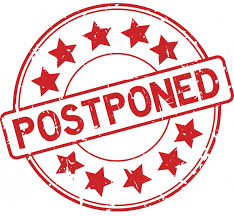 Dear Fellow Saints & Sinners,
I have decided to postpone the Spring Board of Directors in Niagara Falls on May 28-30th, due to the current Corona Virus Epidemic.
I feel we have nothing so important to discuss that it is worth the possible health risk to any of us.
If you have made room reservations at the Sheraton Niagara Falls, please cancel with the hotel (you have plenty of time).
I will advise the hotel Monday, March 16th of our intention to postpone our meeting, and to cancel the block of rooms.
I will advise you of a rescheduled time for the meeting, or we will handle the meeting via telephone conference.
I would like to thank Sam Cirifalco and the Dare Devils Tent in Niagara Falls for their work in checking possible Hotel sites and doing leg work for the meeting.
We will have the Convention tickets printed for the 2021 convention and send them to each tent to sell.
I pray you all stay healthy and things can return to normal, and look forward to seeing all of you soon.
Sincerely,
Chuck Wallace
National President Circus Saints and Sinners of America
304-281-6713
wallace.charles66@yahoo.com